Amazon.fr
is now shipping to all countries worldwide at very reasonable prices and shipping charges. We figured that a guide is needed as it can be very difficult if you can't read French and/or have never ordered from Amazon before. Hopefully, our brief guide (with translations) on Amazon France's checkout system will help you out.
You can also use Google Translate or use the Google Chrome Browser for translating as well. However, the terms may not be translated correctly and some parts may not be translated all.
1) Product Page
Here is the product page. Choose the quantity and then add it to your cart by clicking on the yellow button on the right.
2) Item Added Page
Once you have added the item, you can edit your cart or proceed to checkout. Click on the yellow button again to proceed to checkout.
3) Log in Page
If you have an existing Amazon account (does not have to be Amazon France meaning you can register on other Amazon English sites), you can enter the same login info here as well. You will then have saved shipping address/payment if you ordered from Amazon before.
4) Shipping Address Page
Very straightforward here. Enter a new shipping address or choose one of your existing addresses.

5) Shipping Options Page
Here, you can choose your shipping options. To maximize your savings, we recommend choosing the slowest one. In this case, the slowest one is "Rapide" which means "Fast" and ships in 10-12 business days.
6) Payment Page
Here, you can add a new credit card or use an existing credit card for your purchase. You also have the option of using a gift card or coupon code (if there is one at the moment).
7) Order Review Page
This is the final stage in which you can review your order. Check to make sure you have the correct shipping address, item, etc. You also get to see the total amount and the breakdown of the VAT discount and shipping charges. Click on the yellow button again to place your order and that's it!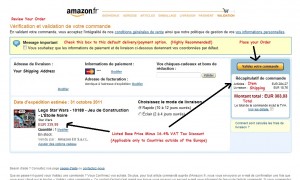 Understand how everything works and want to see the latest LEGO offers? Then check their
LEGO Bestsellers List
to pick up some LEGO bargains!