Our Microbuild LEGO Tournament is back!
Last year
, contestants had to build a UCS set in micro form. This year, the challenge is to build your own custom LEGO mini modular building with no more than 300 pieces. By "custom", we mean modular buildings that have not been made by the LEGO Group (i.e it cannot be a mini modular based on Fire Brigade, Pet Shop, Town Hall, etc).
Up for grabs this year for our Microbuild LEGO Tournament Contest will be a brand-new copy of the highly anticipated LEGO exclusive 10224 Town Hall set. More details can be found below. You will get 2 months to design and build your creation. Use your pieces wisely and good luck!
Official contest launch date is February 15 and will run until April 15. If you have a question regarding this contest, please post it here.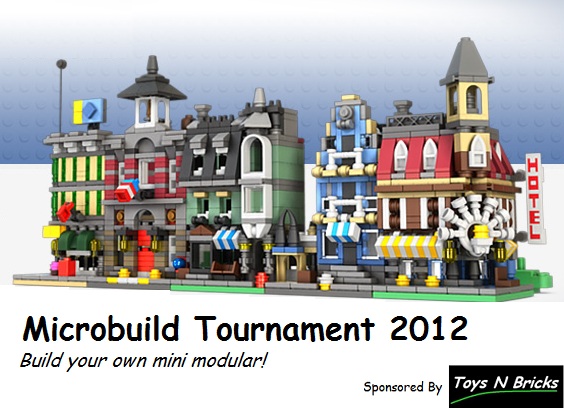 Contest Rules
You can use up to a maximum of 300 pieces
Your entry must be a new modular building designed by you
Your entry cannot be based on an official LEGO modular building
Entries must be completely new (you cannot use it in another contest, event, etc)
Entries must be built with LEGO pieces (no LDD, custom brands, stickers, other objects used)
If you have won the last LEGO Building Contest (Holiday LEGO Building Contest 2011), you are not allowed to enter
Submit your Entry
Please submit your entries in this topic
Details on how to submit are also available there
Evaluation
Contest evaluation will be based on votes from members
If there is a tie, there will either be another voting round for the 2 contestants or the staff will make the final call
Deadline: Contest ends on

April 15

at 21:00 PST
(April 16 - 0:00 EST).
*All entries that fails to meet the above guidelines by the deadline will be disqualified.
Prizes
Grand Prize
The Grand Prize Winner will receive a brand-new copy of the new and exclusive LEGO 10224 Town Hall Modular Building.
2nd Place
The Second Place Winner will receive a brand-new copy of the LEGO Cars 8638 Spy Jet Escape set (no box) along with 3 mini sets: City 7566 Farmer, Star Wars 30053 Republic Cruiser and Toy Story 30070 Alien Spaceship.
Toys N Bricks reserves the right to modify or change the rules at anytime.
By accepting the prize, you have read and understood the rules and our basic contests & prizes rules.