The Next Generation of Space Travel
The last NASA Space Shuttle launch is set for July 8. To celebrate and mark this very special event, Toys N Bricks is proud to present "The Next Generation of Space Travel Contest". Space Shuttle Launches are ending, what will be the next generation of space travel for NASA? You decide!
*Note that this should have some sort of "realism" so don't build stuff that's too science fiction, like an X-wing or Imperial Star Destroyer.
Contest starts now until July 31st. If you have a question regarding this contest, please post it here.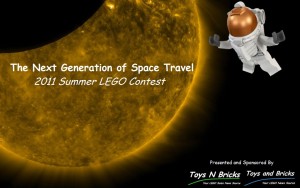 Eligibility
Open to ALL countries where not prohibited
One Entry per Member
Entries MUST be completely new
Entries MUST be built in LEGO pieces (no LDD, custom brands, stickers, other objects used, etc)
Submit your Entry
Upload your images onto our Flickr Group Pool (you can upload as many as you want)
Tag your images as "Toysnbricks"
You may link your Flickr account here so we can see additional images
Post your creation in this topic with up to 3 images and the amount of pieces you have used
Note that once you have submitted your creation, you only have 60 minutes to edit/change it
Bottom line is don't submit it unless your absolutely sure thats the creation you want to be entered
Deadline: Contest ends on

July 31st

at 21:00 PST
(August 1st - 0:00 EST).
*All entries that fails to meet the above guidelines by the deadline will be disqualified.
Prizes
(LEGO Gift Card substitution may be offered)
Gold
- Brand-New copy of the 3368 Space Center & 3365 Space Moon Buggy
Silver
- Brand-New copy of the 3366 Satellite Launch Pad & 3365 Space Moon Buggy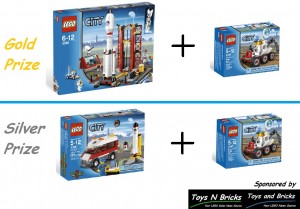 Toys N Bricks reserves the right to modify or change the rules at anytime.
By accepting the prize, you have read and understood the rules and our privacy policy.