The 2014 Toys N Bricks LEGO Microbuild Tournament Contest is here! This year, our Microbuild Tournament will be based on the new LEGO Simpsons theme. All you have to do is build a mini LEGO Simpsons landmark or building with no more than 300 pieces.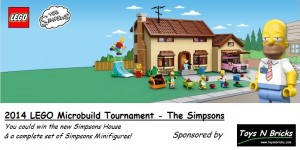 Up for grabs this year for our Microbuild LEGO Tournament Contest will be a brand-new copy of the highly anticipated LEGO exclusive 71006 The Simpsons House. More details can be found below. You will get 2 months to design and build your creation. Use your pieces wisely and good luck!
Contest runs until July 15th, 2014. If you have a question regarding this contest, please post it here.
Contest Rules
You can use up to a maximum of 300 pieces
Your entry must be a Simpsons landmark or building
Entries must be completely new (you cannot use it in another contest, event, etc)
Entries must be built with LEGO pieces (no LDD, custom brands, stickers, other objects used)
If you have won the last LEGO Building Contest (Winter 2013: Minifig Holiday Traditions Vignette), you are not allowed to enter
Submit your Entry
Please submit your entries in this topic
Details on how to submit are also available there
Evaluation
Contest evaluation will be based on votes from members
If there is a tie, there will either be another voting round for the 2 contestants or the staff will make the final call
Deadline: Contest ends on

July 15th

at 21:00 PST
(July 16 - 0:00 EST).
*All entries that fail to meet the above guidelines by the deadline will be disqualified.
Prizes
Grand Prize
The Grand Prize Winner will receive an awesome LEGO Simpsons Gift Package including the LEGO exclusive The Simpsons House and the just released LEGO Simpsons Minifigures!
71006 The Simpsons House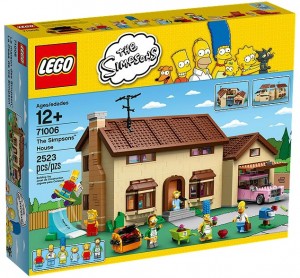 71005 The Simpsons LEGO Series Minifigures (complete set of all 16 minifigures!)
2nd Place
The Second Place Winner will also receive a complete set of 16 brand-new The Simpsons Series Minifigures 71005.
*Minifigure packs have been opened to verify a complete set of 16
All prizes and shipping costs will be sponsored by Toys N Bricks.
Toys N Bricks reserves the right to modify or change the rules at anytime.
By accepting the prize, you have read and understood the rules and our basic contests & prizes rules.