Year: 2014
Pieces: Varies (4-6)
Minifigures: 1 per package
Price: $3.99 Each
Description:
Lego.com has a description of each character in the Minifigures section.
Here's a front/back shot of the package: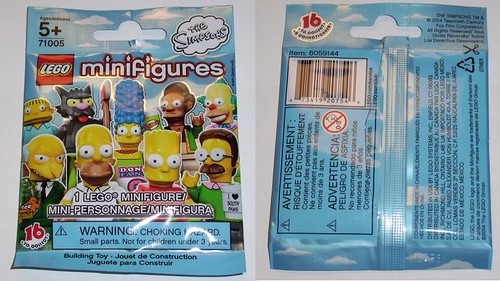 And the instruction booklet:
"To alcohol! The cause of, and solution to, all of life's problems." - Homer Simpson
What you get: Homer's head is the same shape as from
The Simpsons House (71006)
, but he doesn't have the "sleepy" eyes. His torso with collar, belly bulge, and short sleeves is unique to this set, as are both the doughnut and TV remote printed tiles. The legs, in this color, are used in a handful of sets (apparently Homer shops at the same place as Marty McFly).
Review: 10/10
I'm glad his eyes are open, but I'd still like to see at least one of the main family characters with a smile on their face. Nevertheless, Homer was the only minifigure that I intentionally purchased a duplicate, to set on my desk at work. Great clothing and accessories to use for custom creations too.
How to find him: Feel for the 1x2 tile and/or little round tile.
"My bones are so brittle. But I always drink plenty of...'Malk'? " - Bart Simpson
What you get: Similar to Homer, Bart has the same head mold as from the house set but with fully-open eyes. Bart's torso/legs also would have been the same except for the rear printing of a slingshot. The light purple skateboard wheels are unique to this set, as is the board itself, since it is painted and does not require a sticker.
Review: 9/10
Again, it's nice that his eyes are open to the world, but he still has a generally blank expression. There's some potential for custom creations, keeping in mind the torso and legs pretty much have to stay together so the rear slingshot matches up. Though the skateboard adds more movement/playability, I think the slingshot could have actually been a separate accessory in place of the skateboard. I have to dock a point for his shirt being red instead of orange though.
How to find him: Feel for the skateboard/wheels.
"I don't mind if you pee in the shower, but only if you're taking a shower. " - Marge Simpson
What you get: As with Homer and Bart, Marge features the same head from the house set with open rather than "shifty" eyes. As a variation, Marge has unique green "underwear" instead of white. The cloth dress also varies in that it doesn't have an apron on it. Her torso is printed identically on both sides. The "Donut Fancy" magazine appears in the
HD opening
of the show (starting in season 20+), although Marge is actually reading "Anxious Mother". Her purse is unique to this set as well.
Review: 9/10
I feel the cloth dress was not really needed as it just inhibits her movement. She could have had green legs with painted exposed shins and red shoes, like the children (perhaps a variation of Krusty's pants). I'd also have preferred to see Marge with
"Mom Monthly"
, the original magazine she has had for the majority of the show's run so far.
How to find her: Feel for her large, corncob-like head.
"I'd be mortified if someone ever made a lousy product with the Simpson name on it." - Lisa Simpson
What you get: Lisa also has the same head shape from the house set, but instead of the "worried" look her eyes are now fully open. Aside from this, her torso, legs, and cloth dress are identical. Like Marge, the torso is printed the same on both sides. She shares the leg piece with Milhouse. Her saxophone is unique to this set, being just slightly different than one that came with the Saxophone Player (Series 11).
Review: 9/10
As with Marge, I feel the cloth skirt piece is quite unnecessary; it's difficult to put on, and a zig-zag pattern on the legs would have worked just fine. Her saxophone is a must to complete/compliment the house though. Some may argue about what color her dress should actually be, but as with Bart, I need to dock a point for using red clothing instead of orange.
How to find her: Feel for the J-shaped saxophone.
"*suck, suck*" - Maggie Simpson
What you get: Maggie has – you guessed it – the same head and body pieces as in the house set. In a twist, her eyes now have a more "worried" look. She comes with her (technically Mr. Burns') teddy bear Bobo, which appeared in season 5 (1993). The bear shape has been used a few times before, but the printing is unique.
Review: 9/10
The Bobo teddy bear is just a fantastic accessory for Maggie and a great reference from the classic seasons. I only dock a point for the relative difficulty of using the pieces elsewhere, though someone might be able to find another use for the her body piece...ghost child perhaps?
How to find her: Feel for her single body piece and/or the bear.
"My Homer is not a communist. He may be a liar...a pig...an idiot...a communist...but he is not a porn star." - Grampa Simpson
What you get: Here we have the first figure in the series that features a head piece that's not from the house set. His peach torso is printed with a bolo tie, and the light gray pants are used in many sets. The newspaper printed tile is taken from season 13 (2002).
Review: 10/10
Grampa is a great character to join the extended Simpsons family and wander aimlessly around the Simpsons home. The newspaper is quite funny and captures his crotchety personality well. He has nice details in the wrinkles around his neck and clothing that's generic enough for mixing and matching.
How to find him: Feel for the 2x2 tile and full size legs, making sure the head isn't Marge's.
"Feels like I'm wearing nothing at all...nothing at all...nothing at all! " - Ned Flanders
What you get: Ned's head is identical to that of the house set. His green torso is uniquely printed; the dark gray pants have been used several times. The red toolbox has only been used in 2 other sets, one of them being the Simpsons house, but this one has new "PROPERTY OF NED FLANDERS" label printed on it. The standard mug has custom printing as well ("I <3 SOUTH PAWS") in reference to Ned's left-handedness.
Review: 10/10
The mug would have been sufficient as the only accessory; the toolbox is just icing on the cake. But if anything, Homer should have had the toolbox with Ned's name on it, since the joke is that Homer takes all of his stuff. (Side note: his arms were on backwards – has anyone ever encountered this?)
How to find him: Feel for the toolbox and/or mug.
"I could pull a better cartoon outa my a- ahaha hey whoa!" - Krusty the Clown
What you get: Krusty and all the remaining figures have their own never-before-seen head pieces. He features his distinctive pointy green hair, bright red nose, and "face paint". His torso has white gloves, short sleeves and printed collar, blue bow tie, and belly bulge. His lime green pants are unique, and while the pie has been seen before in a few other sets, the yellowish filling color is just for Krusty.
Review: 10/10
Finally, a happy smiling character! Though feet accessories aren't very common in the minifigure series, some big red clown shoes would've worked well for Krusty in place of or in addition to the throwin' pie. Even so, I can't fault this figure for that.
How to find him: Feel for the pie and/or star-like pointed head.
"Everything's coming up Milhouse!" - Milhouse van Houten
What you get: Milhouse has the trademark big nose, red-rimmed glasses, and bushy blue eyebrows (in fact he's the only character with eyebrows). The lavender torso with short sleeves is unique for Milhouse. As mentioned above, he shares legs with Lisa. The printed tile with "BICLOPS" comic book is taken from season 12 (2001).
Review: 9/10
Spot on depiction of Bart's nerdy sidekick, with generic clothing that will work well for custom minfigs. Since we already have 3 figures with printed 2x2 tiles, Milhouse could have provided a good opportunity to explore other accessories, but I'm not quite sure what else would've fit him (and helped distinguish him from Ralph in the packages).
How to find him: Milhouse and Ralph are two of the trickiest figures to feel for as they both have short legs and a 2x2 tile. Best advice I can give is that Milhouse's head is a bit more oblong and bumpy, while Ralph's is more squat like a pumpkin. I got lucky and grabbed one of each on the first try :)
"Me fail English? That's unpossible!" - Ralph Wiggum
What you get: Ralph's torso features a collar and belt/buckle design, and his short legs in this color are unique. He has painted radial strands of hair and is wide-eyed with somewhat of a smile. The printed tile with the Valentine's Day card is from season 4 (1993).
Review: 9/10
The minifigure version of Ralph is about as simple as the character it's portraying. While the clothing/painting is true to the cartoon, something about him is just off. I think it's because his hair just doesn't translate well into 3D, with the strands being flat painted lines instead of sticking out off his head. The Valentine's Day card is over 20 years old now, and it's a testament to the lasting appeal of the show that it could be included in this set with no doubt fans would still immediately recognize it.
How to find him: (see Milhouse)
"I'm gonna party like it's on sale for $19.99!" - Apu Nahasapeemapetilon
What you get: Apu adds some variety to the mix as he is one of 3 figures from this series without yellow skin. He has a painted dark green torso and tan legs that are used in a number of sets. The drink cup shape has only been used for Larry the Barista from The Lego Movie minifigure series, but is in a unique color and painted to look like the Kwik-E-Mart's signature sugar-filled SQISHEE beverage.
Review: 9/10
Apu's head is well-designed with a puffy gray hairdo and pencil-thin mustache. He also features great details on his torso, from the button holes in his jacket to little chest hair curls. Since the character wears his pants so high, there is a block of tan paint on his torso to imitate this. Unfortunately, it's not quite the same shade as his pants and it leaves a green line between the legs and torso (I'm tempted to just cover it up with black marker).
How to find him: Feel for the small tubular cup.
"Shoplifting is a victimless crime. Like punching someone in the dark." - Nelson Muntz
What you get: Nelson wears a flesh-color short sleeve shirt under a blue jacket. His little legs are the same as Bart's from the house set (no slingshot design on the back). While the baseball bat shape had been used once before for the Baseball Player (Series 3), this darker version is unique to Nelson.
Review: 9/10
Nelson's head/face are appropriately crafted to represent the almost caveman-like appearance of this schoolyard bully. The bat, however, is another instance where I'm not sure it was the best choice for his accessory, but don't really know what else he could have instead...perhaps a sack lunch with Bart's or Milhouse's name on it? A torn-up, ragged appearance to the bottom of the jacket would have been a nice touch too.
How to find him: Feel for the bat.
"Hehehehe!" - Itchy (Mouse)
What you get: Itchy features a blue rubber head with big blue ears and buck teeth. He also has orange short sleeves with blue arms and white gloves and an orange torso painted to look like his shirt is open, exposing his blue belly. His little blue legs, only used in a couple other sets, give the appearance of being pants-less (ah, shirt but no pants – classic cartoon animal attire). The big brown club has been included in just a few other minifigure series sets.
Review: 8/10
I have mixed feelings about Itchy (and Scratchy). On the one hand, they are faithfully depicted. On the other hand, they're not really Simpsons characters per sé, in that they don't exist in the Simpsons world, but rather they are a cartoon within a cartoon ("Toonception" if you will). If we were to have any animals in this series, I'd have much rather seen the Simpson's pets Santa's Little Helper (dog) and Snowball II (cat), either paired together in one bag with some of their own accessories or included as accessories to other main characters.
How to find him: Feel for the club and/or rubbery head.
"AHHHHHH!" - Scratchy (Cat)
What you get: Scratchy's head is dark gray rubber, with menacing yellowish eyes, bright pink nose, and red tongue sticking out between his fangs. He has a dark gray torso, with belly design and white gloves. His legs are also dark gray, the same as Ned's pants. Also included is the rarely-seen midsection piece in the form of a dark gray tail. The ax shape had been used once before for the Lumberjack (Series 5), but this darker ax handle is unique.
Review: 8/10
(See also Itchy) I was pleasantly surprised to find Scratchy's tail piece as it's not evident in most pictures of him. In place of the ax though, I'd have opted for a (brick-built) mallet of some sort, as seen in the
opening of the cartoon
where Itchy has the club. The mallet is also somewhat less violent, as if bashing someone in the head repeatedly is better than hacking them up with an ax...
How to find him: Feel for the ax and/or tail piece.
"Bake 'em away, Toys." - Chief Wiggum
What you get: Chief Clancy Wiggum has a dark blue torso, printed with tie and a badge, along with patches on his upper arms. The dark blue pants also have printing of utility belt with handcuffs and radio. His octagonal hat is molded to his head. The gray billy club is unique to this set, and the club piece itself was only used once before for the Constable (Series 11). The bullhorn piece has been around for a long time, but only a couple exist in this particular color and none have been painted like this before.
Review: 9/10
Between the torso, legs, and arms, Wiggum features the most detailed body painting of any figure in the set. That being said, the standard Lego body just doesn't do justice to how round Wiggum is. This is evident by his neck being wider than his shoulders. While I understand the reuse of the piece, I feel he should've had a more American police baton rather than the British-style billy club. It's also a shame that his police hat isn't removable for other (non-Simpsons) figures to use.
How to find him: Feel for the club and/or bullhorn. His octagonal head/hat is distinctive as well.
"Family, religion, friendship. These are the three demons you must slay if you wish to succeed in business." - Montgomery Burns
Charles Montgomery Burns wears a dark green suit, with a painted white undershirt and black tie. His dark green pants have been seen in numerous other sets. His head, complete with three distinctive age spots, is made of hard rubber. Monty carries a clear Lego head as a fishbowl for "Blinky" the 3-eyed fish, which appeared in season 2 (1990). He also includes an "inanimate carbon rod" which was officially named in season 5 (1994) but appears in the opening of each episode. The 3L translucent bar has appeared in several sets, but only one other time in bright green for the Classic Alien (Series 6).
Review: 10/10
With two awesome accessories and very reusable clothing, there's only one word to describe Mr. Burns: "Excellent".
How to find him: Feel for the rod and/or the fishbowl (standard minifigure head piece).
Just for reference, here's a front and back comparison to the main characters in this series to The Simpsons House set. In general the minifigure series characters look better than their house counterparts, due to the wide-open eyes and more familiar clothing of Homer, Marge, and Flanders.
Price:
Although I seem to recall an uproar about the $4 per figure price tag, I feel this is still very reasonable, considering the licensing involved and the fact that most characters get a unique head mold and/or include custom printed torsos and accessories. Even those that don't have unique molds (Homer, Bart, Marge, Lisa, Maggie, Flanders) do still have different head and/or clothing designs, with the other designs only being available in one other pricey set. Over a 1/3 of the figures contain more than one accessory as well. Taken together it does add up however, as it'll be a minimum of $64 for the whole bunch, not counting tax and assuming you don't get any duplicates. If you don't have OCD and need to collect them all as I did, I hope my descriptions above help you pick which ones you want!
Final Thoughts:
Much like the house set, this minifigure series falls into the better-late-than-never category. "The Simpsons" as a show is long since past it's glory days as the cultural phenomenon it once was. This is clearly evidenced by the show-specific accessories included with the figures, with all but one (Marge's magazine) being from 10+ years ago. It's kind of a double-edged sword as by finally getting these iconic cross-over figures, such merchandising is probably only further delaying the merciful plug be pulled on the TV show.
Below is the list of results from a survey of the top 25 favorite characters on the show. Of the 16 figures in this series, only 2 (Itchy and Scratchy) are not in this list. In my opinion, Groundskeeper Willie and Sideshow Bob definitely had potential of replacing the cartoon cat and mouse. Which of the other characters would you rather have seen in this series? Let me know in the comments.
http://www.dorkly.com/post/63634/toplis ... cters-ever
And to close, here are a few little scenes I created using the minifigures and the Simpsons house.
"I'm seeing double here: four Krustys!" - Legs
"The doctor says that my nose would stop bleeding if I just kept my finger out of there." - Ralph Wiggum
"Beaten by an infant...what could be more humiliating?" - Mr. Burns
"Lisa, knock off that racket!" - Homer Simpson