Below is a brief history of Toys N Bricks and the work that we do as a hobby!
Timeline of Toys N Bricks
Site Growth
April 2009: Toys N Bricks was founded
May 2009: Set Indexes were created briefly. However, they were shut down shortly afterwards as they weren't too popular and took too much time to create and maintain
December 2009 – Toys N Bricks Facebook Group and Twitter Fan Page Launched
August 2009 – Forums officially launched (created in May 2009)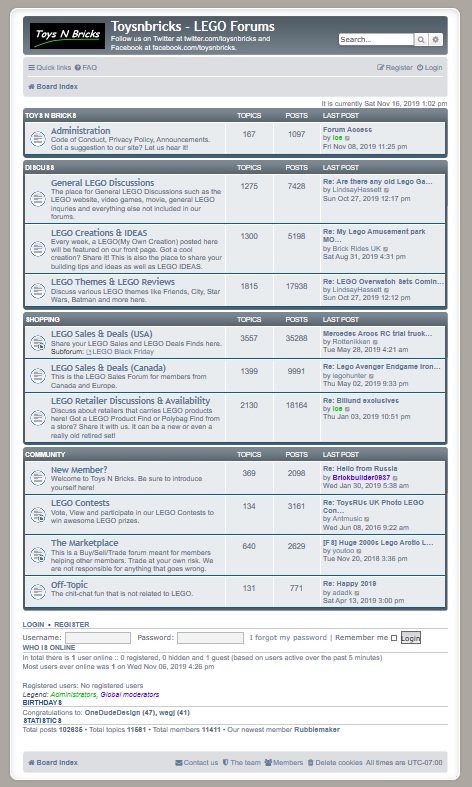 March 2010 – Flickr Group Launched
April 2010 – Newsletter Launched
August 2012 – Pricenbricks.com Amazon USA Price Tracker Project launched providing current prices and previous prices
*2010-2012: Various other initiatives were launched including "Toys and Bricks" and "Sales N Bricks". Toys and Bricks was formed to offer different LEGO news coverage from Toys N Bricks. Sales N Bricks was formed in hopes to make it a dedicated LEGO Sales site while Toys N Bricks would focus on LEGO News. Both "Toys and Bricks" and "Sales N Bricks" were eventually scraped with everything going back to Toys N Bricks.
Site Decline
November 2016 – Pricenbricks.com Amazon USA Price Tracker Project Shut Down as Amazon does not allow us to track past price history. It was also taking a lot of time for us to maintain it.
January 2017 – Work on the site begins to decline, news updates decline, categories on the news portal and forums are merged
November 2017 – Toys N Bricks left the LEGO Ambassador Network
2017-2018 – Further decline in news updates and activity and more social exclusion and consideration of closure of site
There were weeks and months where we abandoned the site due to commitments and personal issues we were facing since 2017. There were times when we considered closing Toys N Bricks. Fortunately, we finally decided to keep the site. Though, due to the inactivity that occurred in the last few years, traffic is not as high as before. The forum was pretty much dead in 2017.
Many readers, visitors and people have left and we don't blame them judging the decline in service. Rest assured though that there will be consistent updates moving forward starting in 2019. We will be focusing work primarily on the blog as that is the core of the site. The forum is dead as previously mentioned, but it will still continue to be accessible for archive purposes.
New Beginnings (Restructuring of how we deliver our service)
January 2019 – Instagram Fan Page Launched
April 2020 – Bringing back our popular LEGO Building Contests back at the new LEGO Forums (www.toysnbricksforum.com)
Toys N Bricks is your destination for the latest and hottest LEGO News, Sales News, Creations and Reviews! (www.toysnbricks.com)
Subscribe by Email and Follow Us on Facebook, Twitter, Instagram and Flick